Skip to Content
Meetings
IGNITE YOUR IMAGINATION
ORLANDO, FL HOTEL FUNCTION SPACES
Experience the versatility of our lakefront hotel's expansive 50,000 square feet of indoor and outdoor event areas, equipped with a range of practical amenities tailored to suit various occasions. Our dedicated team provides a personalized touch to ensure an unforgettable event for you and your guests.
For more information contact the sales team at (407) 390-2480 or eMail.

View Meeting Room Virtual Tours View Meeting Brochure View Banquet Menu
Amenities
50,000 sq. ft. of indoor & outdoor event space
Variety of private & semi-private banquet rooms
Complimentary Wi-Fi
High-tech audio/visual support
Exceptional onsite catering
39th Annual Florida Society of Oncology Social Worker Conference
Safe States Annual Conference
Expedition Room
2,115 sq. ft. | Up to 100 guests

Meeting attendees will enjoy thoughtful design touches, and access to an outdoor terrace that is perfect for breaks or just to stretch your legs. The Expedition Room is ideal for up to 100 people with classroom-style seating.
Visit 360° Tour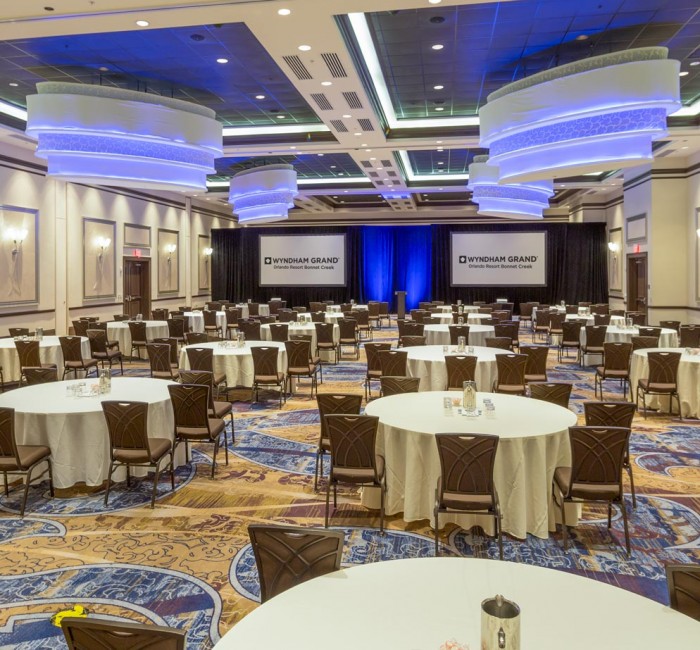 Ponce de Leon Ballroom
8,000 sq. ft. | Up to 400 guests

Featuring soaring 19-foot ceilings, this elegant ballroom is ideal for large corporate events including conventions, conferences, exhibitions, trade shows, fundraisers, and social galas. For smaller functions, this space can be divided into seven smaller sections.
Visit 360° Tour
Grand Foyer
3,260 sq. ft.

Your guests are sure to be impressed by this gorgeous, well-lit Grand Foyer, offering 3,260 square feet of meeting and event space for breaks, cocktail parties, receptions, networking, silent auctions, and more.
Visit 360° Tour
Bonnet Creek Ballroom
3,500 sq. ft. | Up to 150 guests

Located on the lobby level, this intimate, high-tech ballroom offers refreshing natural sunlight and stunning views of our 10-acre lake. Our newest addition, this 3,500-square-foot space arrived in September of 2016.
Visit 360° Tour
Pool Deck
Up to 400 guests

Our expansive Pool Deck provides a relaxing and tropical setting for informal gatherings, networking events, or cocktail parties. Mix and mingle with up to 400 friends or colleagues around the sparkling palm-lined pool.
Visit 360° Tour
Horizon Boardroom
304 sq. ft. | Up to 10 guests


Plan your next conference in our sophisticated, light-filled Horizon Boardroom. Perfect for up to 10 people, this boardroom offers a variety of refined touches and business-inspired amenities.
Horizon
1,600 sq. ft. | Up to 100 guests


Featuring a boardroom, a foyer, a balcony, a patio, and 10 individual parlor rooms, the elegant Executive Lounge is available for banquets, receptions, classroom-style arrangements, theatre-style arrangements, and conferences.
Journey
2,419 st. ft. | Up to 210 guests
Planning a banquet dinner, a reception, or a meeting set for 40 to 210? Journey features modern details and versatility.
Visit 360° Tour
Discovery
716 st. ft. | Up to 60 guests
Discovery is ideal for banquet and classroom sets of 30 and receptions and theatre sets for up to 60 guests.
Visit 360° Tour
Voyage
820 sq. ft. | Up to 80 guests
Voyage offers versatility as a breakout room with 20 to 80 guests depending on the setup.
Visit 360° Tour
Bimini Boardroom
480 sq. ft. | Up to 14 guests
Host high-level VIP meetings in Bimini Boardroom, furnished with an executive table and ergonomic chairs, recessed cabinetry for food and beverage service, and wall-mounted screen for AV presentations.
Visit 360° Tour
Compass
487 sq. ft. | Up to 60 guests
Compass Meeting Room is a versatile space accommodating 15 guests boardroom-style, to 60 guests, theatre-set
Visit 360° Tour
Explorer
745 st. ft. | Up to 80 guests
Plan your meeting in this room with a view. Whether you're planning a conference for 20, a banquet for 50, or a theatre set for 80, Explorer Meeting Room is the ideal venue for your needs.
Visit 360° Tour
deep blu Seafood Grille
Up to 200 guests

Whether you're hosting a private dinner party, an executive luncheon, or an important business meeting, deep blu Seafood Grille's exclusive private dining room is sure to provide the perfect setting for your occasion.


Catering
Looking to impress your guests with delectable food and exceptional service at your next social gathering or corporate event? Look no further than our expert catering team. From intimate dinners to large group events, we have the experience and skill to make your event a resounding success. Our award-winning cuisine is tailored to your specific needs, ensuring that your guests will be thoroughly satisfied with their dining experience. Trust us to take care of all the details, leaving you free to focus on enjoying your event.
For more information on banquet or special event catering, please contact us at (407) 390-2480 or by email.
Offers
Save big on your upcoming business event while earning Wyndham Rewards points with our special Orlando meeting offers.
View More
Walt Disney World® For Groups
As a Walt Disney World® Gateway Hotel, we offer groups special after 2:00 PM Theme Park tickets for your attendees, and the unique option to select event venues at EPCOT® as well as Disney Institute courses, customized to your event.
Image Credit: ©Disney
VIEW MORE
Walt Disney World® Catered Events
The greatest advantages of having your event in a theme park is that the multi-million dollar decor is already there! That's a great value. Think of the possibilities just waiting for you at Epcot®, Disney's BoardWalk Resort®, or Disney's Animal Kingdom® Theme Park. Add to that the unique locations of the Disney Springs® area, Disney's Typhoon Lagoon Water Park and ESPN Wide World of Sports™ Complex and you've got even more venues just waiting for you!

We have gathered some of our best venues for your review as noted below:
Disney's Beach Club Resort®
Disney's BoardWalk Resort®
Disney's Contemporary Resort®
Epcot®
The Great Hall of China (Guests must have theme park admission for Epcot®)
Disney's Typhoon Lagoon® Water Park
Disney's Animal Kingdom® Theme Park
Disney's Fort Wilderness Resort®
Disney's Polynesian Resort®
For more information, contact Marianne Robinson, Disney Catered Events at 321.939.7145 or by email at Marianne.Robinson@disney.com.
Disney Institute
For over two decades, Disney Institute has been helping transform organizations through custom solutions grounded in the time-tested success of The Walt Disney Company.
As one of the most recognized names in business solutions and professional development for over two decades, Disney Institute is the only training and development company that empowers organizations to create lasting change through our time-tested model for cultural transformation—bridging insights into action through Disney's best practices in leadership, culture, customer experience, brand loyalty, creativity, and innovation.
For more information, contact Ms. Lily Mendoza, Account Manager Disney Institute at (407) 566-6340 or via email at lily.mendoza@disney.com.