Meeting Offers
Grand Savings
Impressive spaces, creative planners, and inspirational venues are just some of the benefits of booking your meeting at our hotel. You'll also have exclusive access to our incredible, money-saving meeting offers. For more information contact the sales team at (407) 390-2480 or eMail.

We are still accepting RFPs for your future meetings and will respond promptly to your request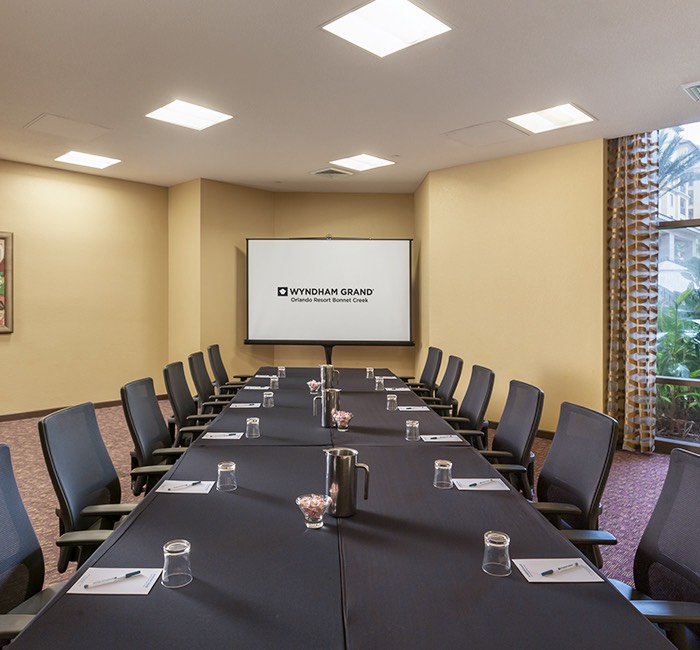 Grand Perks
Meeting and event planners love our rewards program—Wyndham go meet allows you to earn rewards points for booking rooms and packages at Wyndham Grand Orlando Resort Bonnet Creek.
Terms & Conditions
25–75 Rooms on Peak (choose three perks)
Save 10% off of published Banquet Menus
COMPLIMENTARY 1-hour Welcome Reception (Hotel Selection hors d'ouevres 3 pc per person, Call Brand beer and wine Bar)
Two (2) upgrades with Resort Amenity (values $50 Retail per amenity)
COMPLIMENTARY high speed WiFi in meeting rooms
5% off of master bill, up to $5,000 on rooms, food and beverage and rental actualized
76–150 Rooms on Peak (choose four perks)
SAVE 15% off of published Banquet Menus
SAVE 10% on published A/V pricing from our PSAV (in-house supplier)
COMPLIMENTARY 1-hour Welcome Reception (Hotel Selection hors d'ouevres 4 pc per person, Premium Brand Beer and Wine Bar)
Three (3) upgrades with Resort Amenity (values $50 Retail per amenity)
COMPLIMENTARY high speed WiFi in meeting rooms
7% off of master bill, up to $7,500 on rooms, food and beverage and rental actualized
151+ Rooms on Peak (choose five perks)
SAVE 20% off of published Banquet Menus
SAVE 15% on published A/V pricing from our PSAV (in-house supplier)
COMPLIMENTARY 1-hour Welcome Reception (Hotel Selection hors d'ouevres 5 pc per person, Ultra Premium Beer and Wine bar)
Five (5) upgrades with Resort Amenity (values $50 Retail per amenity)
COMPLIMENTARY high speed WiFi in meeting rooms
10% off of master bill, up to $10,000 on rooms, food and beverage and rental actualized
Dates
October 13 – 18, 2019
October 27 – November 1, 2019
November 3 – 8, 2019
November 17 – 22, 2019
December 10 – 19, 2019
June 1-30, 2020
July 1-18,2020
July 19-21, 2020
July 26-28, 2020
August 1-16, 2020
September 4-15, 2020
September 19-30, 2020